Balance Within Retreat in costa Rica
Stay: Villa 7 elements
Dates: February 25th to March 4th, 2023
Where: Nosara, Costa Rica
THIS IS GOING TO BOOK FAST I HAVE A LOT OF INTEREST IN THIS RETREAT SO DON'T THINK ABOUT IT TOO LONG. SO EXCITED IT'S BEAUTIFUL IN PLAYA GUIONES.

A powerful, spiritual week of yoga, chanting, meditation, surfing, and S0 MUCH more.
Testimonials
"This retreat was one of the most healing & best trips of my life!! Not only did I learn about myself, but I felt the incredible energy, love, and power of this Blue Zone region thanks to Peggy Klauer and Natasha Anneliese from White Lotus Yoga! Come join me, Peggy Klauer and others for an unparalleled experience that I promise you will never forget! Feel free to contact me with any questions! Pura Vida and much love" – Brian LeFeve
"Morning yoga on the beach, surfing, and yoga with breathtaking sunsets, the activities were immersive. The energy was phenomenal and transformative. Peggy was an incredible host and every little detail was mind-blowing and took me out of reality – which is where I needed to go! I felt completely relaxed, peaceful, and at home with the wonderful group of people and I can't wait to attend another Balance Within Retreat. I left balanced, peaceful and happy. I now know how to keep this balance within my world. This retreat was truly life-changing" – Colleen Campbell
Read more testimonials.
---
Retreat Information
Book your ticket, pack your bags… let us do the rest for your traveling needs and nurture yourself for 6 days and 7 nights in paradise. Our lives are overwhelmed with technology, information and stimulation excesses, rapid social and cultural shifts, and a sense of being adrift and out-of-balance. In the midst of this, there seems to be a profound disconnect from our own self-realization.
You will leave this week with the wisdom of how to keep this balance in your day-to-day life regardless of what is coming at you.
We Invite You to join us at Villa 7 Elements and experience:
Pathway leading to the beach
A warm gentle breeze that is always amidst
The constant soft sound of the ocean waves will lull you into a relaxed state
The aroma of the tropical flowers will arouse your senses
A location that is one with nature will awaken your senses and calm your soul
The energy of awareness and SLOWING down is the essence of Nosara
An energy that flows with the natural rhythm of the higher-self
Being fully present in a state of self-love is a gift of pure happiness that will bring healing and balance to your life
And the Monkies you will fall in love with
Also bundles of Happiness
Click link below to view pictures of the area where the retreat is taking place, Playa Guiones, Nosara
We provide a variety of practices:
Yoga
Meditation
Chanting
Learn how to work with subtle energy with simple techniques
Breath-work
Journaling will be a free choice could be on the beach, when you find stillness etc
How to balance with the moon cycles, seasons, and 24-hour rhythm of a day
Paddle-boarding available
Snorkeling
101 Surf Lessons available
Bikes are available
Bon-fire on the beach
Massages
So Much More to experience in this paradise
You will have an abundance of daily free time and all gatherings are optional. If you feel you need to skip out on anything we understand and encourage it!
Our retreat is beautifully designed to encourage slowing down, having fun, sleeping well, connecting deeply with nature, and most importantly connecting with who we truly are.
Join the Balance Within Retreat at the stunning Villa 7 Elements in Nosara, Costa Rica with a short walk to one of the most glorious views in the world. Nosara is classified as a Blue Zone and you can immediately feel the calming, healing energy when you arrive there.
This retreat will be a transformational life experience that will bring balance and healing into your world through awareness, self-love, and compassion for all.
About the location:
Villa 7 Elements location is on the Nicoya Peninsula of Costa Rica on the Pacific side which is classified as one of the 5 original Blue Zones of the world. What is a Blue Zone? It's a demographic and/or geographic region where common lifestyle characteristics contribute to the general population living healthier and longer lives – on average over 100 years!
Costa Rica truly lives the Pura Vida lifestyle. Pura Vida means 'Pure Life'.
Come experience the Pura Vida with us at Villa 7 Elements.
Join us for a week of yoga, meditation, energy healing, relaxation and so much more! You do not want to miss this!
*Please bring a yoga mat and a journal.
Accommodation
Some bedrooms have a private elegant bathroom and others will share a bath with one or two other people. If you bring a friend or family member you will be sharing it with them.
Click the link below to view more pictures of Villa 7 Elements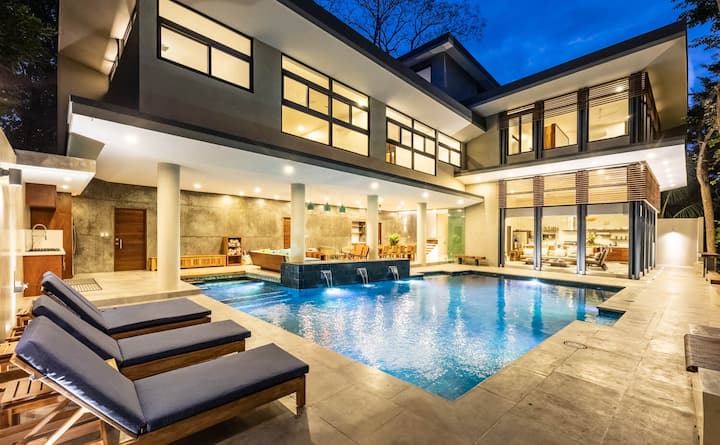 7-Bedrooms
5 Full +2 half bathrooms
Lagoon saltwater swimming pool
Waterfalls
Yoga deck
Private cozy lounging areas
Walk out the front door to a charming town with quaint shops and delicious restaurants
Surf rental boards within walking distance
A beautiful path to the beach
Meals
Smoothie, vegetarian and vegan dishes are available (vegan upon request) also the choice of meat is available.
*To preserve the integrity of this retreat and remain in a pure state of balance we ask that alcohol or substances not be misused
Transportation
You fly into either Liberia (LIR), Costa Rica, or San Jose (SJO), Costa Rica airport. From Liberia, it is a 3-hour drive and there is a shuttle service available to and from the airport. If you fly into San Jose you can rent a car. The drive is 4 1/2 hours. A great way to enjoy the true beauty of Costa Rica. Also, another option is a hopper plane a 20-minute flight from San Jose or Liberia to Nosara airport through Sansa Airlines. From Norsara's Airport, you will be picked up from here, it's a ten-minute ride to Villa 7 Elements from there.   
Click the link for information on the hopper flights.  Sansa Airline website
If you can book a flight for 6:00am in the morning, you will arrive that same day around noon or 1:00pm. That will give you time to take a shuttle or a hopper plane to arrive at the villa around 4:00 or 5:00pm. The shuttle will take you directly to the villa and the hopper plane will take you to the Nosara airport, where you will be picked up by a Balance Within staff member. Sometime, if you wait a month before the retreat, you can snag a flights for around $600 to $800, or $300 to $400 flying Spirit.
We understand arranging travel isn't always easy so please reach out if you need help either booking a flight or any details that you need support in. We're happy to talk on the phone and help you select the best flight for your needs. See our contact section to talk to one of our hosts and let us know how we can help.  https://balancewithinretreat.com/contact/
Pricing
See more pricing and payment information by clicking here
Price is based on per person and includes meals, accommodations
This retreat is booking quickly so don't wait!